About CEMES
The primary task of the Centre for Modern European Studies (CEMES) is to explore the profound transformation of the political, cultural and intellectual contours of Europe that has taken place over the last centuries.
The centre will actively work to coordinate and develop research and teaching in European studies based on interdisciplinary collaboration between various departments, sections and researchers at the Faculty of Humanities at Copenhagen University.
Read more here.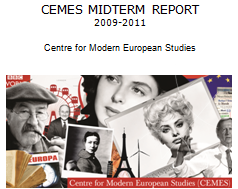 CEMES is a part of the research cooperation EURECO.

Organisational Structure
The backbone of CEMES is the group of researchers associated with CEMEs and involved in the various research project and activities linked to CEMES. The researchers have various fiels of expertice, but are all joined in CEMES by their common interest in the field of European Research.
Steering Committee


CEMES is headed by a Steering Committee consisting of representatives from all participating Faculty of Humanity Departments, MEF, ENGEROM, TORS, SAXO, INSS, IKK and Theology. New Centre Chair is Morten Rasmussen (SAXO) mortenra@hum.ku.dk and Hanz-Jörg Trenz (MEF) trenz@hum.ku.dk serves as Vice Chair. The Steering Committee is responsible for the overall administration of CEMES, including economy and the organisation of common activities.
Moreover, the steering committee is aiming at launching two transverse structures within CEMES to create continuous common activities of both a public nature and for the CEMES researchers:
CEMES ACROSS (Leaders: Morten Rasmussen, Hanz-Jörg Trenz, Gert Sørensen/Karl Christian Lammers, Catharina Raudvere, and Cecilie Givskov)
CEMES ACROSS is not a research group, but an activity meant to guarantee that CEMES at least once a semester host a discussion- and debate meeting about substantial themes, challenges and terms, which are suitable for promoting the cross disciplinary dialogue between the CEMES researchers and possibly including external researchers
CEMES-DEBATE (Responsible: Morten Rasmussen and Hanz-Jörg Trenz)
This activity aims at hosting at least one debate each semester about European topics. The debates target the general public and the media and bring together University members, politicians and cultural personalities
Research Groups
In addition to the steering committe, and in order to ensure a multifacetted and active network, CEMES has initiated the formation of six research groups. These groups are all open to participants, including both CEMES researchers and external researchers.
Read more abot the Research Groups here
Research Projects
In addition to the recently formed research groups, a number of exiting research projects already exists within the CEMES field of interest. These projects are typically financed by external funding, have an already defined objective, and are in certain instances closed forums.
Read more abot the Research Projects here