Atatürks Turkey with Russian eyes
This event will be held in Danish.
CEMES-forskergruppen The Many Roads to Modernity holder filmseminar om Tyrkiet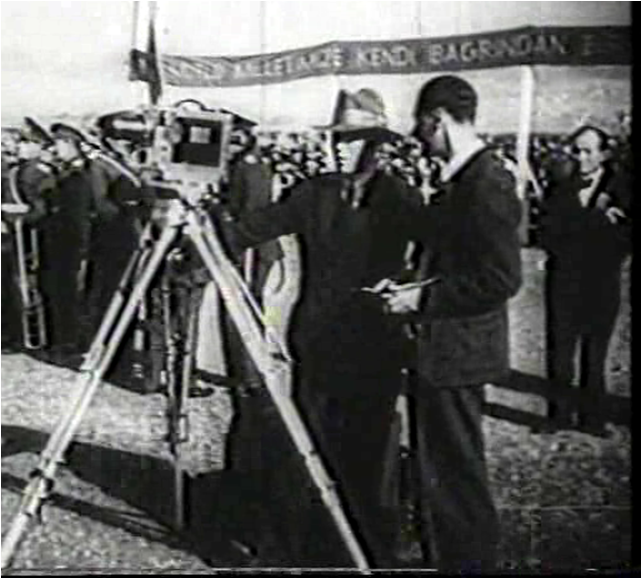 under Atatürk med dokumentarfilmen, Ankara. Tyrkiets hjerte (Ankara. Serdtse Turtsii), af Sergei Yutkevich (1904–1985), som i sin samtid var særlig kendt for sine film om Lenin. Filmen blev produceret i 1933-34 i anledning af den unge tyrkiske republiks tiårsjubilæum. Det republikanske regime ønskede at benytte sig af et mere moderne propagandamiddel som filmmediet, der i samtidens Europa, og i særlig grad i Sovjetunionen og Tyskland, fik tiltagende betydning som propaganda for et massepublikum. Men da Tyrkiet ikke selv rådede over den nødvendige teknik og kunnen, henvendte det sig i den anledning til den sovjetiske regering, der til formålet udpegede Yutkevich.
Resultatet blev således Ankara. Ankara. Tyrkiets hjerte, hvor Yutkevich får fremvist ikke blot Tyrkiets nye fabrikker, dets nye, dynamiske, disciplinerede og ivrige ungdom, dets militærmagt, festoptog, samt de nye statsbygninger, inspireret af samtidig tysk og sovjetisk arkitektur, afspejlende ikke blot det nye kemalistiske regimes modernisme, men også konsolideringen af dets autoritet. Men vi får også indblik i livet i byen og landsbyen, almenbefolkningens daglige gøremål, folkedans, basaren og meget mere.
Efter filmen vil følge en diskussion af mellemkrigstidens autoritære regimer og deres programmatiske moderniseringskampagner, med særlig henblik på virkningen deraf på kulturel identitet.