European Enlargement across Rounds and Beyond Borders

'Author meets Critics' debate 
The discussion is coordinated with the course on the history of international organisations at KU. The volume, edited by Haakon A. Ikonomou (AU), Rebekka Byberg (KU), and Aurélie Andry (EUI), offers a first interdisciplinary attempt at re-conceptualizing how historians engage with the phenomena of EC/EU enlargements.
Presenters
Haakon A. Ikonomou is a postdoc at Aarhus University and holds a PhD in history from the European University Institute.
Rebekka Byberg is a PhD candidate and junior lecturer at the SAXO Institute of the University of Copenhagen.
Mathias Haeussler is a Lumley Research Fellow at the Magdalene College, University of Cambridge and holds a PhD in history from the University of Cambridge. 
Discussant
Brigitte Leucht is a Senior Lecturer in German and European Studies at the Faculty of Humanities and Social Sciences of Portsmouth University. 

The lecture is open to all and will be followed by a reception.

The lecture is part of the Author meets Critics series and is organized by Centre for Modern European Studies (CEMES) / the research group 'Rethinking European Integration'.



About the book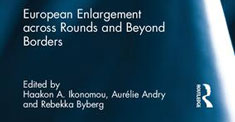 Read a summary of the book at the Routledge website