Understanding Foucault's last decade: neoliberalism and the care of the self
CEMES Lecture by Daniel Zamora Vargas
 14 June 2018, 14.00-16.00,
University of Copenhagen, South Campus, The Saxo Institute, room 12-3-07
Cemes is proud to announce that Daniel Zamora Vargas will give a lecture on "Understanding Foucault's last decade: neoliberalism and the care of the self".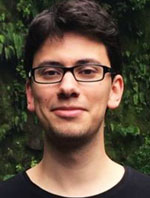 Daniel Zamora Vargas is a post-doctoral researcher in Sociology at the Université Libre de Bruxelles (ULB), Belgium, and currently a research fellow at the University of Cambridge.
His research interests are related to issues of Welfare State, inequality, poverty, intellectual history in the second half of 20th century, and he has in the recent years been instrumental in launching an international and interdisciplinary debate on how we should understand and deal with Michel Foucault's work in the 1970s, with a special focus on Foucault's research on neoliberalism.
Among his many publications on the topic are the volume Foucault and eoliberalism 
(Polity Press, 2016) that he co-edited with Michael C. Behrent. See also his more recent piece about Foucault's last volume of his History of Sexuality, The avowal of the Felsh.
The lecture is followed by a reception.
The event is organized by Niklas Olsen and Søren Rud in collaboration with the CEMES Student Forum.