An Intellectual History of Basic Income: How a Fringe Idea Went Global
CEMES Lecture by Daniel Zamora Vargas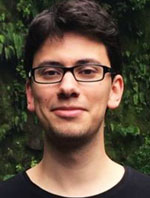 CEMES and PERG is proud to announce that Daniel Zamora Vargas will give a lecture on "An Intellectual History of Basic Income: How a Fringe Idea Went Global".
The last ten years have witnessed a veritable revival for the 'Universal Basic Income' proposal. The intellectual history of the idea itself, however, has rarely been the object of serious scholarly attention. The aim of this talk is to offer a short and global account of how UBI went from an obscure idea confined to economic textbooks to a full-blown planetary movement. Focus is on a series of conceptual shifts that affected the post-war industrial order and that profoundly affected our conception of Human Rights, social policy, work, poverty and distributive justice in a global setting. 
Daniel Zamora Vargas is a post-doctoral researcher in Sociology at the Université Libre de Bruxelles (ULB), Belgium. His research interests are related to issues of Welfare State, inequality, poverty, intellectual history in the second half of 20th century, and he has in the recent years been instrumental in launching an international and interdisciplinary debate on how we should understand and deal with Michel Foucault's work in the 1970s, with a special focus on Foucault's research on neoliberalism. Among his many publications on the topic are the volume Foucault and Neoliberalism (Polity Press, 2016) that he co-edited with Michael C. Behrent. See also his more recent piece about Foucault's last volume of his History of Sexuality, The avowal of the Felsh.
The lecture is followed by a reception.
For more on Daniel Zamora Vargas' work, click here.
The event is organized by the Political Economy Reading Group and CEMES.