Book Launch: European Film and Television Co-production Policy and Practice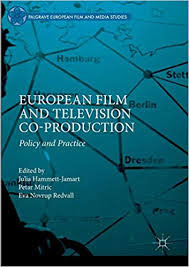 The Co-production Research Network is proud to announce the release of a new volume on European film and television co-production, edited and authored by CoRN members:
Julia Hammett-Jamart
Co-production Research Network (Paris)

Petar Mitric
Department of Media, Cognition and Communication,
University of Copenhagen
Eva Novrup Redvall
Department of Media, Cognition and Communication,
University of Copenhagen
The volume is published by Palgrave Macmillan and offers an up-to-date analysis of film and television co-production in Europe. It brings together the voices of policy professionals, industry practitioners and media industry scholars to trace the contours of a complex practice that is of increasing significance in the global media landscape. Analysis of the latest production statistics sits alongside interviews with producers and the critical evaluation of public film policies. The volume incorporates contributions from representatives of major public institutions. Read more
To mark the book launch Dr Julia Hammett-Jamart will be giving a public lecture at 13:15 on South Campus, room 27.0.09 - read more
The lecture will be followed by an industry reception and a public screening of the film 'Europa'. The film is introduced by Petar Mitric.
The public screening takes place at 16:00 in Asta Bar at the Danish Film Institute, Gothersgade 55
The book launch is supported by CEMES.
In November 2016, CEMES co-financed the 'European Co-production Symposium'.