Overburdened Peace: Competing Visions of World Order in 1918
Lecture by Professor Dr. Jörn Leonhard (Universität Freiburg).
The First World War was an industrialized mass war. The longer it lasted, the more it changed the societies that waged him, and the faster it devalued the knowledge of politicians. How should one end it? Masterfully and with an eye for the global context, Jörn Leonhard tells the story of how the world struggled, between 1918 and 1923, to create a new and peaceful world order and what this process meant for the further course of the 20th century. The high expectations, contradictory promises, overwhelming and pressing challenges and the various strategies of greater and smaller powers all played a part in the overburdened peace that came out of the Paris conference in 1919. Whether it was the carving up of old imperial lands, the internationalization of colonial practices, the creation of new states and new minorities, or the promises of lasting security arrangements and future disarmament: The way in which the war came to an end, created disappointments and conflicts that were to shape the 20th century profoundly.
Discussant: Professor Nils Arne Sørensen (University of Southern Denmark).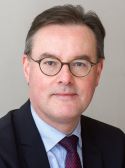 Jörn Leonhard (born 27 May 1967 in Birkenfeld) is Professor of West European History at the History Department of the University of Freiburg. From 2007 to 2012, he was co-director of the School of History at the Freiburg Institute for Advanced Studies (FRIAS).[1] Hitherto his works have concentrated on the history of liberalism, nationalism, empire, and war.
All are welcome. No registration. Please note that the lecture starts 12.59!
Organized by CEMES  & Laying the Foundation
Publication