Writing Time: The Aesthetics of Ephemerality in Nineteenth-Century Periodical Literature
Talk by Sean B. Franzel, associate professor of German at University of Missouri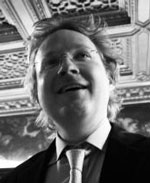 Sean B. Franzel is associate professor of German at University of Missouri.
His research interests span the literary, intellectual and media history of the eighteenth and nineteenth centuries.
His first book Connected by the Ear: The Media, Pedagogy, and Politics of the Romantic Lecture (Northwestern University Press, 2013) unfolded an interdisciplinary study of the Romantic and Idealist lecture that intervenes in media history, the history of scholarly culture, theories of publicity, and Romantic legacies in aesthetic and political discourse.His talk is related to his current book project on time and nineteenth century periodical literature.
Organized by the CEMES research group Thinking the European Republic of Letters