25 years of the Baltic States' upswing in partnership with Denmark

Panel debate
9 September 2016,  09:15-12:00
University of Copenhagen, KUA
The Faculty Library of Humanities
(link to map of venue)
The past 25 years have seen a dramatic transformation in the three Baltic States – Estonia, Latvia, and Lithuania, resulting in their reintegration into major Western political and economic structures. After joining UN, OSCE, CoE  the Baltic States were adamant to 'return to Europe' – a rightful place where they belonged before Soviet occupation in 1940. In institutional terms that meant to become members of the EU and NATO. In practical terms that meant vast political, economic, institutional and societal transformation in the shortest possible time-frame. That was achievable only with political determination and dynamism in carrying out necessary reforms and political, technical and know-how support of neighbouring countries in the Baltic Sea region, European states as well as indispensable Trans-Atlantic partner – the U.S.
(Read more here)
This panel debate is designated to reassess advancement of the Baltic States, to comprehend Danish and Baltic relationship in the new context, and to discuss areas of additional traction in Danish and Estonian, Latvian, Lithuanian interrelation.

The panel debate is open to all. Free entrance, but registration is necessary.

Programme 
9:15
Welcome and opening remarks by Märt Volmer, Ambassador of Estonia 
9:20
Opening speech:Michael Metz Mørch,
Secretary General DKI, former Ambassador to Latvia:
Denmark's interests and expectations of the Baltic States 25 years ago 
9:35  Panelists:
Andres Kasekamp, Professor, Institute of Political Studies, University of Tartu; Deputy Director, Estonian Foreign Policy Institute, Estonia
The European trajectory of the Baltic States, 1991-2016

Egidijus Aleksandravičius, Director of the Lithuanian Emigration Institute, Lithuania  Price of Freedom: Three Speed Lithuania After 25 Years 
Daunis Auers, Associate Professor of Comparative Politics, University of Latvia, Latvia
Becoming Nordic… or Becoming Baltic? 25 years of Cooperation and Integration in the Baltic Sea Region
 Bjarke Møller, Executive Director, Tænketanken Europa
As close to the core as possible? Shared interests of Denmark and the Baltic States in the EU
10:30 Short coffee break
10:40 Panel discussion
moderated by Morten Rasmussen, CEMES, Faculty of Humanities, University of Copenhagen
11:15 Key-note speech:
Kristian Jensen, Minister of Foreign Affairs:
How can Denmark and the three Baltic States together better address economic growth and security challenges?" 
The keynote speech is followed by a Q&A session
12:00  Reception.
All are welcome
The Baltic States 1991-2016

Republic of Estonia/ Republic of Lativa/ Republic of Lithuania                                                                                                                                                                       
Key-note Speech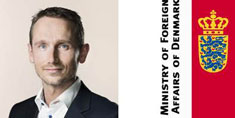 Kristian Jensen, Minister of Foreign Affairs:
How can Denmark and the three Baltic States together better address economic growth and security challenges?"