Conference on Europe and International Organisations, 1918 - 1970s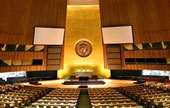 By bringing together international scholars and building on their expertise in this field, the conference will synthesise new research into a broader understanding of the nature and role of international organisations in twentieth century European history.
The conference is open to the public, and the organisers invite scholars and students with an interest in the field to join us.
Read about the international high-profile speakers, the program and how to register on the conference website.