European Memory Cultures
This research group aims to create a forum for sharing and developing research into constructions of European memory cultures within, across, and beyond the European continent.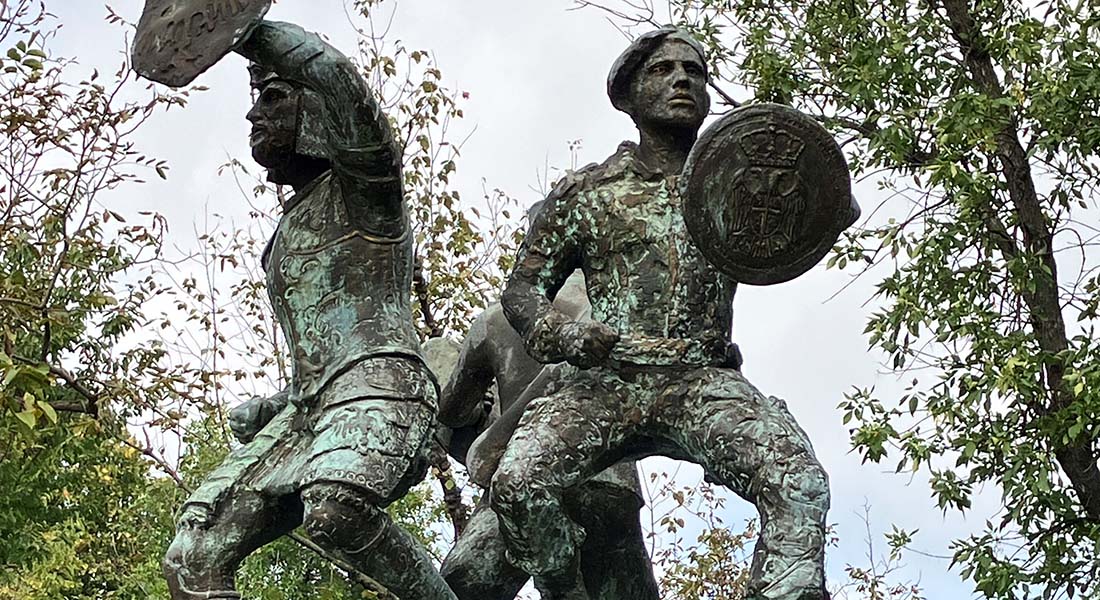 The research group European memory cultures includes scholars from the Universities of Lund, Malmö and Copenhagen. It is interdisciplinary and includes researchers from various fields, specializing in different aspects of European culture and history and focusing on different parts of the European continent and beyond. We understand the concept of memory cultures broadly as based on representations of the past that are shared by a group and used to uphold its identity and frame its present as well as visions of its future. Memory culture must be understood as dynamic and negotiated, but also durable and subject to some inertia. Studies of memory culture involve analyses of bodies of reusable texts, images, objects and rituals that societies cultivate.
The role of memory in European culture and politics is as urgent as ever. European memory cultures are challenged by a number of both new and lasting issues, including questions of post-colonialism, post-totalitarianism as well as recent and ongoing conflicts and questions of how to rebuild countries and regions after wars and large-scale crimes against civilians.
The crucial position of cultural memory and heritage in Europe has become obvious, especially since the early 1990s with the rise of Holocaust remembering as a core element of European Union identity and memory politics. It was aggravated by the memory conflicts that followed the 1990s wars in the Balkans and the enlargement of the EU to the East, which brought the difficult memories of Communism and the East-West memory divide to the fore. Moreover, European memory disputes recently acquired new actuality with the Russian invasion of Ukraine and the instrumentalization of the past by both sides of the conflict. Furthermore, Europe's former colonial powers struggle to build usable memories that fit the new European memory paradigms, and Scandinavian welfare states are engaged in judicial and public struggles over past injustices towards indigenous populations, in many ways comparable to processes surrounding stolen generations in Australia and Canada.
Thus, struggles over European memories and how to interpret Europe's modern history are very much at the core of contemporary European culture and politics, at regional, national and international levels.
The study of memory culture requires multi and inter-disciplinary approaches and engages researchers from fields such as memory studies, heritage studies, ethnology, history, history didactics, sociology, politology, media studies, language and area studies, urban studies and others. The need for interdisciplinary research invites for collaboration and exchange between researchers. The research group European memory cultures aims to promote cooperation between scholars in Copenhagen, Lund and Malmö working with memory issues in order to stimulate and inspire our individual work, formulate common research ideas, collaborate on project development and funding applications, and organize events that address our shared interests.
Lund University 
| | |
| --- | --- |
| Bernsand, Niklas  | PhD student (East European Studies) |
| Gradén, Lizette  | Associate professor (Ethnology and museology) |
| Graf, Sebastian | PhD student (History) |
| Geschwind, Britta  | Researcher (Ethnology and archival- and museum studies) |
| Kiryukhin, Denys | Researcher (History) |
| Klareld, Ann-Sofie | Senior lecturer (ALM and digital studies) |
| Malmgren, Agnes  | Postdoc (European Studies) |
| Narvselius, Eleonora | Associate professor (Ethnology) |
| Rudling, Odeta | Postdoc (History and European Studies) |
| Rudling, Per Anders  | Associate professor (History) |
| Sniegon, Tomas | Associate professor (History and European Studies) |
Malmö University
Ekelund, Robin

Senior Lecturer (Childhood, education and society)

Frykman, Maja Porzanovic

Professor (Ethnology and migration studies)


Lettevall, Rebecka

Professor (Philosophy/faculty adm)

Mohammadi, Robert Nilsson

Ass. Senior Lecturer (Society, culture and identity)

Ristilammi, Per-Markku 
Professor (Ethnology and urban studies)

Tureby, 

Malin Thor 
Professor (Oral history studies)